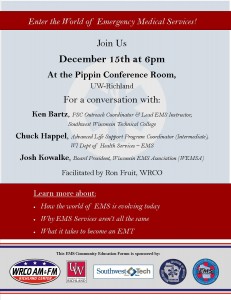 Join WRCO and UW-Richland in welcoming guest panelists Ken Bartz, Chuck Happel, and Josh Kowalke for a conversation about emergency medical services. This Community Education Forum will be held in the Pippin Center at UW-Richland on Monday, December 15, at 6pm.
The panelists will discuss how EMS has changed in Wisconsin since it got its official start in 1968 and what it takes to work in the field. Each of the panelists brings with them a unique perspective and knowledge of Wisconsin EMS. Ken Bartz is the lead instructor of EMS at Southwest Wisconsin Technical College, training students across the region on emergency medical care. Chuck Happel is the Wisconsin Department of Health Services EMS Program Coordinator for Advanced Life-Support, working with intermediate-level ambulance squads to grant licensure and ensure compliance. Josh Kowalke is the Board President for the Wisconsin EMS Association, helping to strengthen the emergency care provided in Wisconsin though education, information, and legislative action.
The goal of this event is help the Richland Center community better understand emergency medical services from a grander perspective and answer any questions that may exist. While there have been many discussions recently regarding EMS in the area, this event will focus on EMS at the regional and state level. Potential topics include the differences in education and care from first responder to paramedic and how the introduction of career positions has impacted the original volunteer ambulance model in rural areas.
Dean Patrick Hagen said, "I am delighted that UW-Richland's Pippin Conference Center can be the site for this very important discussion about EMS issues in Wisconsin. The purpose of the forum is to help educate the public. We're pleased whenever we can serve the community in that way."
This community education forum is made possible through partnerships with WRCO, UW-Richland, Southwest Wisconsin Technical College, Wisconsin Department of Health Services – EMS, and the Wisconsin EMS Association. For more information, please contact Ron Fruit at rfruit@wrco.com.
Download the flyer here.