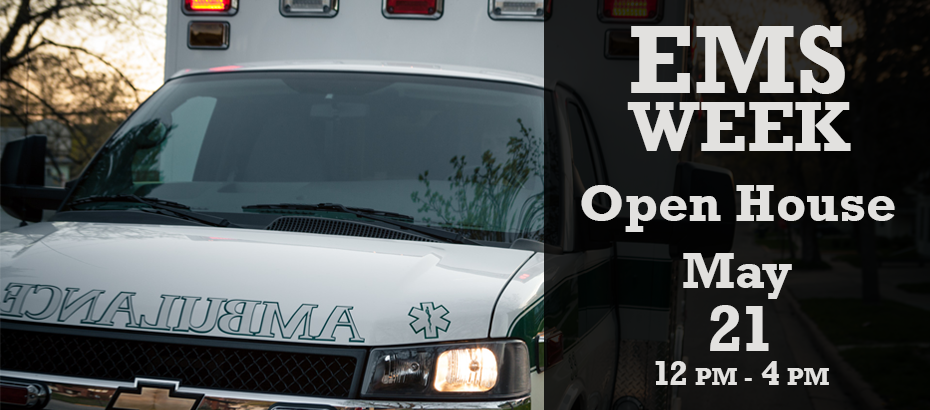 We are excited to announce events to celebrate EMS week.
This year, EMS week is May 21-27. The goal of EMS Week is to bring together local communities and medical personnel to encourage community safety and preparedness as well as to honor the dedication of those who provide the day-to-day lifesaving services of medicine's "front line."
In addition to the coloring contest and Open House, we will also be offering community CPR Classes. These classes will be free of charge and open to everyone. However, participants will need to register ahead of time, as class sizes are limited. If there is enough interest, we will host additional classes to ensure everyone has access to this life-saving training. There is no age limit, though it typically directed toward people ages 8 and up.
The Ambulance will be on the WRCO Morning Show on Friday, May 4th, and Wednesday, May 17th at 9:10am.
Open House
The Richland County Ambulance would like to invite members of the community to our Open House Fundraiser on Sunday, May 21st, from 12pm until 4pm on Haseltine St., next to the Richland County Courthouse. A special thank you to the Richland Locker for donating the brats and hotdogs for the Brat Stand.
In addition to the brat stand, there will also be several information and activity stations to learn more about emergency situations and how community members can help EMS help them. There will be stations with blood pressure checks and information about common medical emergencies as well as the three ambulances (as available) for visitors to explore. Visitors will also be able to peruse the coloring contest entries from local students.
The Richland County Ambulance always appreciates the ability to interact with and educate our community about EMS and how people can take charge of their health. If you have any questions regarding how you can join us in this mission, let us know here or by calling 647-6474.
And don't forget to Like the Richland County Ambulance Association on Facebook!
CPR Classes
The classes will be held on Tuesday May 23rd at 6pm at Ithaca School and Thursday May 25th at 6pm at the Richland Center Community Center. More information will be posted here or call the office at 647-6474. – CPR Classes Flyer
Coloring Contest
The Richland County Ambulance Association is inviting students to take part in an art contest to observe EMS Week. Students are encouraged to use the provided age-appropriate images for 4K-2nd grade and 3rd-5th grade, with middle and high school students being afforded the opportunity to create their own.
Ambulance #1 · Ambulance #2
Information about becoming a First Responder or EMT will be available
Thank you to the following businesses for their continued support:
Richland Locker
Gordy's
Quail Run
Kelly's Coffee
Sears
Culvers
JJ Walsh Jewelry
Donut Diner
Town & Country TV
WRCO