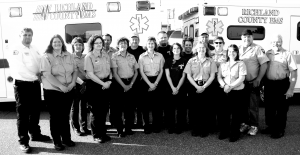 Since 1973, when President Ford established the week to recognize Emergency Medical Services and its workers, communities around the United States have paused to thank those in the community that do so much to keep them healthy and strong. Richland County is no exception, having often proclaimed National Emergency Medical Services Week a week to both celebrate the dedication of this select group of residents and foster conversations regarding health and safety of residents.
Across the country, as EMS faces challenges such as community para-medicine and frequent changes in protocols, EMTs have proven persistent and resilient. Each community is made up of different people going through different struggles. EMTs are some of these people. They are neighbors and friends. They are students praying to survive Finals week. They are parents hoping their kids don't catch that flu going around at daycare. They are co-workers trying to make deadlines. They are other drivers on the road, other shoppers at the store, other faces on the street. They are human, which means they understand. EMTs have been there. They have watched family members struggle and have struggled themselves with illness or injury. So when their pager goes off, they know the need. Thanks to hours of classes and experiences, they often know the answer.
One of their goals in EMS Week is to raise awareness of the common reasons they are called and how you can reduce your risk. For almost every EMS service, the number one dispatch reason is a fall, which in many cases can be addressed by wearing non-slip shoes and removing rugs or mats that may trip you. Regarding car accidents, never drive distracted, come to a complete stop at stop signs, and check for pedestrians, bicyclists, and motorcyclists. As always, eat healthy and exercise regularly. Try to keep a list of current medications in your wallet or purse as well as information on any allergies or medical conditions that may be important for EMTs to know in the case that you are unable to communicate. Get to know your neighbors and have someone you can call if you just need a hand up or need someone to keep an eye on the house. And if you feel you or someone you love may need an ambulance, just dial 9-1-1. Don't be surprised if you recognize a few faces when they come to help you onto the road to recovery.