Pancake Breakfast – May 13th 2012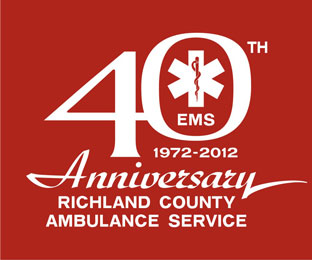 The Richland County Ambulance Association is celebrating 40 years in 2012. We are celebrating with the community by having our first ever pancake breakfast on Sunday, May 13 from 7:00 am to 1:00 pm at the Richland Center Community Center. We are anticipating being in the new Community Center which will add even more excitement to the event and make the trip well worth it to come tour the building.
Along with the pancake breakfast is a scheduled landing from Med-Flight out of Madison for public viewing and a chance to meet one of the Med-Flight crews that has made 100's of trips to Richland Center Hospital and rural landing sites in Richland County. Please keep in mind if their pager goes off they may have to leave so come early to not miss out. It is very informational and interesting to see the landing site set up and instructions given to them by duty crew. This will be done as if they are landing in a rural area in an unfamiliar landing zone, because it will be!
We also have the State Patrol Seatbelt Enforcement Trailer schedulde to be there all day during the pancake breakfast. Here is link to one of the State Patrols seat belt simulators to see what can be expected. http://www.dot.wisconsin.gov/statepatrol/outreach/little-convincer.htm
Our new ambulance is on order with expected delivery around the beginning of May; with luck it will be here on May 13 and on display unless our pager goes off of course.We hope to see you ther,e showing your support for what the Richland County Ambulance Service has done for the committee and meet the EMT's on a social level.
More than a job, A CALLING